Prior Announcement – Worldwide famous author publishes a series of articles on Soccerpilot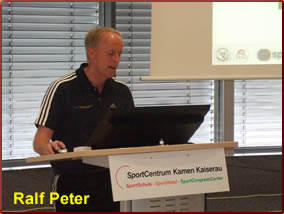 We are very pleased to be able to introduce the Coach of the German Soccer Association, Ralf Peter, an expert of worldwide recognition. He will be contributing a series of articles to explain 'Pressing in Soccer' and go indepth on the forms of training.
In thus Number, we are introducing the Author and publishing an introduction on "Pressing in Soccer".
Of course we can only show a few examples; anything else would bust the scope of this website. On the right side you will find hints and videos to the complete online seminar "Pressing in Soccer". The seminars have a total run time of 3 hours and 37 minutes and contain lots of animations and graphics. An incredible work, an advance education to be found only rarely.
All about Ralf Peter
Ralf Peter is a coach with the German Soccer Association, coaching trainer and a worldwide recognised author. His soccer books, e-books, online seminars and DVDs are mandatory literature for soccer coaches. Since 2001, he has been the juvenile coach at the German Soccer Association. The national teams under his care have already been European- and World Cup winners.
Activities:
DFB (German Soccer Association) coach of the U17 and U16 national team (female)
Presenter at the International Trainer Congress (ITK) of the German Soccer Coaches Association BDFL
Presenter at the regional Courses of the BDFL (German Soccer Coaches Association)
Presenter at U.S. Congresses u.a. NSCAA
Presenter at Egyptian Football Association / Cairo
Assistant coach of women's activities at ANationalmannschaft, U21 and U17 junior men's national team
Publications
about 110 articles in the journal "soccer practice" on various topics
DFB textbooks
modern Defending
children's soccer
Position Training
Soccer card files
Educational Films (video / DVD)
Football pure E / D Youth (U13/U12/U11/U10)
Football pure D / C Youth (U12/U13/U14/U15)
Football pure B / A Youth (U16/U17/U18/U19)
Soccer ball, pure magic
Pure football deceptions and feints
Pure soccer ball-oriented defense
Dear male and female coaches!
There is a lot of interest in my coaching courses, especially the topic of "Pressing".
The participants have lots of questions with regards to the topics and they pay close attention during the course.
Feedback from participants indicated that there is an enormous interest in making the content of the online seminars available in E-Books where coaches have easy access to notes.
Therefore, I decided to write this articles to provide coaches with as much detailed information on "Pressing in Soccer" as possible. I wish all coaches the best of success with regards to Pressing when working with their respective teams!
Ralf Peter
DFB-Coach
Introduction "Pressing in Soccer"
Defending is not only the responsibility of defenders in today's modern game. The golden rule is: When losing possession of the ball, the entire team should get behind the ball and try to win it back. Therefore, attacking players share defensive responsibilities.
These responsibilities depend on the team's own system of play, the coach's philosophy and the types of players available. There are top strikers that will not share defensive responsibilities based on their own will or based on a coach's philosophy.
There is something to consider: A top striker that guarantees 20-30 goals per season might lose his effectiveness if he has too many defensive responsibilities. It does not mean that he has no defensive responsibilities. However, it is certainly more intense for a lone striker to defend than two strikers.
As stated before, the team's own system of play and the team's strategy must be considered as well. A system of play can work in favour of certain players or actually make their life harder at times. The opponent's system of play is also of high importance in a game.
Basic Strategies:
How high should a team defend?
Where should a team try to win the ball?
Should a team show opponents inside or outside?
The displayed tactical behaviours have an impact on the entire "defensive strategy". However, the system of play is always influenced by players, their individual characteristics as well as their strengths and weaknesses.
The opponent's system of play is equally important. In which areas are opponents compact? How do players fill out their respective roles? These are deciding factors with regards to defensive strategies.
Analysis of different types of playing in relation to the ball from a team tactical perspective.
The first question is: What is the preferred strategy of a team when defending. Should the team defend to actively win the ball or should the team be patient to wait for mistakes of the opposing team?
This is a coach's decision. This is all about actively winning the ball.
Defining Pressing
The most common type of defending is Pressing. In my opinion, this is all about defending actively to win the ball back.
This ball-winning strategy relies on creating many 2v1 situations. A team should be looking into doubling-up on opponents in this instance.
What to consider with regards to Pressing?
The own system of play and the system of play of opponents
Where does it happen on the field?
Where is the ideal area to win the ball back?
How should Pressing be applied?
Next article: Types of Pressing
Midfield Pressing - The most common type of Pressing
High Pressure
Low Pressure
Be sure not to miss anything and subscribe free of charge to our News, or follow us on Facebook, Twitter or Google+.
Ralf Peter