Free downloads And Templates For Soccer Coaches
Pitches, report sheets and training aids
Pitches, report sheets, training aids, or tournament plans (coming soon), all the downloads offered here support soccer coaches in their daily work.
We will continue to make more and more downloads available. Stay up-to-date by becoming a fan on Facebook, Twitter, Google+ or subscribe to our free newsletter.
So what are we planning for the future? Quite a lot, for example team management or game evaluation. If you already have templates like these, please let us know - you can help support fellow coaches by adding to our free downloads.
Please note that coloured templates are considerably more expensive to print. However, we will have some available in future, just because they look better.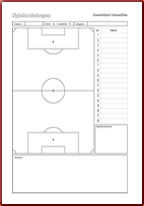 Game report sheets to record the most important details of the match and team formation. Make your work easier with a plan of the pitch to draw in the most important moves and a section for notes.
This report sheet isn't just for your own team, it also makes keeping an eye on future opponents a lot easier.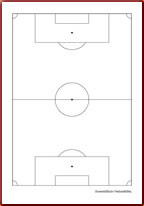 A plan of the complete pitch, to show moves, drills or team formations.
It's easy to draw in directions for running or passing. Plan the formation for your next match, or demonstrate tactics to your players, quickly and simply.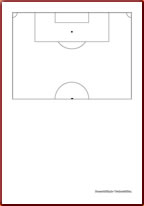 A half-pitch plan is often useful to depict methods of attack or defence.
Below the plan, there's plenty of room for notes, which makes it ideal for drills. Make your own collection of training exercises!
This template saves paper, and you can put two variations of a drill on one sheet.
This pitch plan also makes tactical moves or player distribution easy to explain. Recommended to clearly display attackers and defenders separately.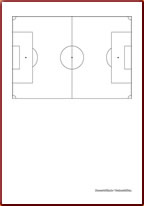 A complete pitch, horizontally on A4.This makes the pitch smaller of course, but provides a lot of space for notes.
This template is also suitable for match notes, and can be used to supplement to our match report sheets – for example, one sheet can be used for the first half, and the other for the second.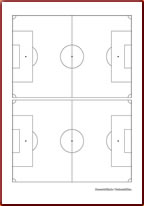 Two pitches, arranged horizontally on an A4 sheet. If you prefer to make sketches and you don't need a lot of notes, this template is ideal for match reports.
The first and second half of the match, arranged clearly on a single sheet, or two different situations – just two examples of what this template can be used for.