Hardly a coach was ever so popular and unpopular at the same time as José Mourinho
His biggest success was not the winnings of the Champions League but his dismissal of FC Barcelona during the Semi-Finals 2010. It was not important for him at all that he won the Champions League Finals with Inter Milan, but that it is all about his person and not about any club. They do not like him very much in Barcelona, his self-important behavior and the defensive soccer playing is not popular with the fans in Camp Nou. He makes soccer players, who just function, out of players who played originally with passion and for this reasons, the Catalans are more than critical towards his success.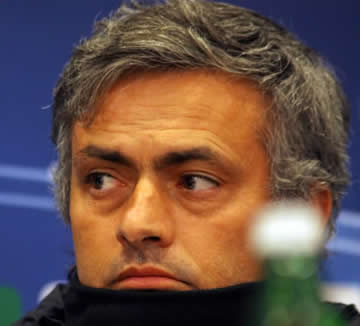 © shutterstock.com/katatonia82
Mourinho started his career right here, where they are (still) despising him: at Barca. In the 1990ies he worked there as assistant and interpreter, but the Catalans never really loved him. Therefore, his success against Barcelona was so important, even Sprinkler could not stop the narcissistic coach anymore. He was triumphant over all his critics, as so often before.
Quotes of the best soccer coach in this world
Currently, he is doing his mischief in Madrid and most likely he will finally again get the title for Real. As we know him, he already mentioned that he will win at least two titles, but unfortunately he was not able to beat Barcelona.
Mourinho is a colorful character, but soccer subsists on such personalities. Every critic becomes silent sooner or later since his quotes are almost always followed by success. Please see below a small choice of creations of the currently most successful soccer coach:
"Don't call me arrogant, but I am an European Champion and I think I am very special."
"We have top players and, sorry for being arrogant, we have a top coach."
"Please don't call me arrogant, but I am a Champions League winner and a very special character."
"Currently, we are the number one, but not because the club is so rich. We are momentarily in competition for so many trophies because of my excellent work."
"Young players can be compared to melons. Only if you open and try them, you can be 100% sure that the melon is good. Sometimes, you get beautiful melons, but they are not tasting very good. Then there are melons which are a little bit uglier but when you open them, they are tasting just delicious."
"Everybody wants Chelsea to lose a game. If this is happening, they should announce holiday for everyone."
"Pressure? What pressure? Pressure is when poor people are working themselves to death to feed  their families. There is no pressure in soccer."
"If your head is into it, the shot will work out with a little talent of yours"
Curriculum Vitae
Mourinho has never been a really talented professional soccer player, but he played nevertheless in the second Portuguese League.
In the early 1990ies he started his career as co-trainer at CF Estrela Amadora and AD Ovarense (both Portugal)
After that, he worked at Sporting Lissabon as co-trainer and interpreter under Bobby Robson. He followed Bobby to Barcelona and worked there in the same position.
He stayed with FC Barcelona and became assistant of Louis van Gaal.
In 2000, he became head coach of BenficaLissabon, but resigned after just nine games.
His short time at BenficaLissabon was followed by a short stay at UniãoLeiria (Portugal), before in 2002, he went to FC Porto. There, he started his impressive career.
He won the Championship and was cup-winner in Portugal with FC Porto. Under Mourinho, the club won the UEFA-Cup and in 2004 the Champions-League Finals.
In 2004 he went to FC Chelsea and won two Championships, two times the English League Cup and one time the FA Cup.
His career continued with Inter Milan in 2008. In 2010, Inter Milan won the Champions League finals. Two Championships and one Cup win is amongst his Italian trophies.
From 2010 on, he has been the coach of Real Madrid, inclusive title!