Klinsmann is a hard worker and he will completely clean up the US national team
On July 29th 2011, Jürgen Klinsmann was officially named as Bob Bradley's replacement by the US soccer association.
This means that our Klinsi's back in business. It is still thanks to him that we in Germany can still have fun with our national team.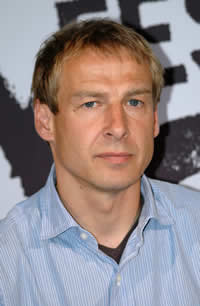 © shutterstock.com/360b
The question of whether he was a good tactician remains unanswered. But he is undoubtedly a fantastic motivator. He gave German soccer players their self-confidence back, and their joy in playing the game. Soccer's strings were probably being pulled by people in the background. Who knows whether Klinsi would also have achieved this success without Joachim Löw?
Followers of soccer in Germany were upset in 2006 when the news broke that Klinsmann was going to quit.
A short break followed, and a guest performance at Bayern Munich. This coaching position was a complete letdown. In professional soccer, there's no longer time to develop something over many years. Rapid success counts.
This was denied him in Munich. The media descended on Klinsmann and on his coaching and motivational methods. People are sceptical about new things, and if those things don't work immediately, then even more so. Anyway, he didn't deserve all that.
What is the US team expecting?
Klinsmann is a hard worker and he will completely clean up the national team. He won't be afraid to start arguments with the US soccer association about his ideas, including those about developing young players. He loves some typical US training methods, especially those related to fitness and motivation. To the Germans, that was new; to the Americans, it won't cause much of a stir.
We're excited to see whether Klinsi will prove to be a success and we hope he does, because we would have kiled to have kept him in 2006!
Many greetings,
a german Klinsi fan